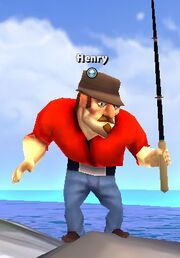 Henry is an NPC found on Cloud Island. He used to be in Fisherman's Retreat which was removed and replaced with Cloud Island in 2018.
Henry has been fishing as long as he can remember. His father taught him at a very young age and since then he knew he wanted to work as a fisherman. And that's exactly what he became! He's been selling fish to the capital for many years now and he thinks is the best job in the world! At the moment you will find Henry at Cloud Island, but he never stays long at the same place. He travels between all the islands in MilMo to find the best fishing spots.
Henry is often in a good mood but when birds and other creatures comes to steal his fish - you should look out! He can become really grumpy and go around grumbling to himself. But otherwise he is a really nice guy and if you help him conquer some of those birds, he might give you a gift in return!