Line 12:
Line 12:
 

When accepting a Quest, it can be found in your '''Quest Log''' in which you can see all the Quests and Quest Information. Click the {{Icon|IconQuest}} icon or press '''L''' to open your Quest Log and see which Quests you have active. You can make an active Quest display its name and goals below the browser by clicking the '''Make Active''' button.

 

When accepting a Quest, it can be found in your '''Quest Log''' in which you can see all the Quests and Quest Information. Click the {{Icon|IconQuest}} icon or press '''L''' to open your Quest Log and see which Quests you have active. You can make an active Quest display its name and goals below the browser by clicking the '''Make Active''' button.

 
 
−

[[File:Placeholder|center]]

+

[[File:|center]]

 
 
 

==List of Quests==

 

==List of Quests==
---
Revision as of 14:48, 27 October 2018

Quests are tasks that players complete to get to know the lore of MilMo and receive some kind of reward.
Quests can range from talking to a certain NPC, unearthing a hidden treasure, or defeating monsters. The reward is usually Gems, Coins and Experience but can also be items. Completing Quests also ensures the receiving of Medals. See Medals/Adventures for more information.
Quests are represented by icons above the heads of NPCs and World Objects and have 3 states:
- Represents a new Quest
- Represents a Quest in progress
- It represents a complete quest ready to be finished.
When accepting a Quest, it can be found in your Quest Log in which you can see all the Quests and Quest Information. Click the

icon or press L to open your Quest Log and see which Quests you have active. You can make an active Quest display its name and goals below the browser by clicking the Make Active button.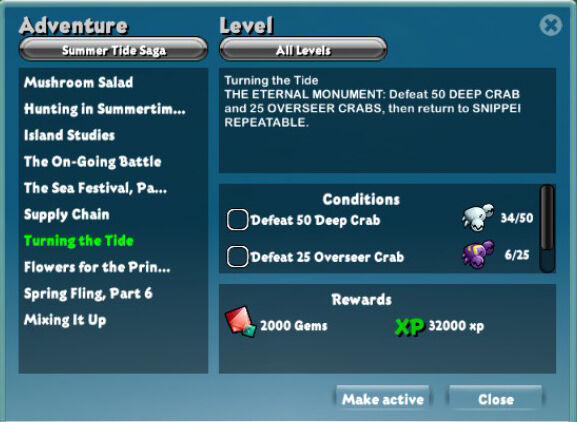 List of Quests
The following lists are lists of all Quests in MilMo, separated by categories.