This page is under construction.

Please be patient as the editor who started or published this article is still in the process of submitting changes to it.
Unlike a Template:Draft, contributors intend to fill out this article overtime.
Swamp IslandEdit
Swamp Island
is a murky and muddy part of
Summer Tide Saga
, where the witch
Mehitabel
is rumoured to be. Weeds, fiends, and onions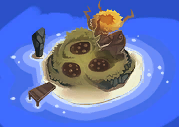 roam around the mud pits waiting for their next victim. Also, what is that
Thingamabob
on the ground? It looks like some sort of an alien device...
Travel Connections
Edit
Note: You need to complete the Interfering Thing quest before unlocking Water Lily Island.